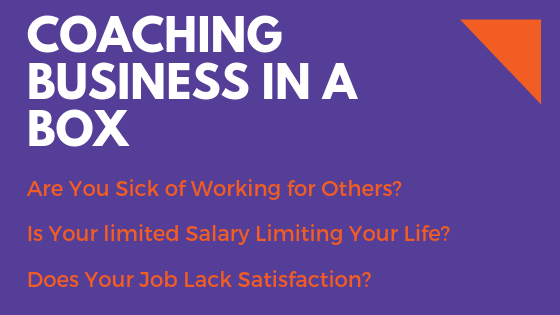 You are probably aware of all the reasons why you want to quit your job and start up a Life Coaching Business, for many the list is endless; Feeling Depressed in an Unsatisfying Role, Looming Redundancies, Lack of Incentive, No Freedom, Over Bearing Managers and Lack of Current Promotions and No Job Opportunities, the real question is "what do you hate about your current role?"
Dear Future Coach,
You have already started to look at how you can become a life coach; you already know that you like to help people, that you get a big buzz from making a difference in people's lives and the idea of working for yourself feels exciting, doesn't it?   Well why not get paid for the thing you love to do and Start Up Your Own Life Coaching Business
Did you know that you don't need any qualifications to become a coach? This means you can buy this package and start coaching people from tomorrow…
Benefits of Being a Self Employed Life Coach:
Get paid for helping people achieve their goals
Become your own boss and work from home
Work the hours you want to work
Make a real difference in peoples lives
Work from home; full time or part-time
You Could Have Booked Your First Coaching Client By This Time Tomorrow
You may want a part-time or full-time business? You might be imagining working for yourself or having a second lucrative income? You may already know some life coaching techniques or you may be starting your journey to becoming a coach from scratch? You might want to help people or you might want to make lots of money?   I don't know what has inspired you to become a Life Coach, but The Coaching Business in a Box will give you the tools and expertise to be one of the few highly successful coaches; You Will…
Learn the Secrets of Internet Marketing – increase hits to your website, double your referrals and make more money helping clients
Become a Specialist Coach – earn more money, increase your referrals to starts and become a worldwide expert, and become a guest author on coaching sites
Increase Your Coaching Tool Box – learn new techniques using NLP, Solution Focus and Life Coaching (Recieve Over 101 Coaching Tools and 101 Coaching Questions); learn which exercise is the  best suited for each clients problem and have planned interventions (knowing what techniques suits which issue)
The Coaching Business in a Box, will help you start your business from scratch and help current coaches make their business a success. Becoming a life coach is easy, the hard part is increasing your web presence, gaining ongoing referrals, and making money from your business. The Coaching Business in a Box gives you the tools to take your passion for helping others and turn it into a professional and profitable business:
Master Google – gain Google page one rankings in 15 minutes!! FACT – The higher up in Google you rank, the more clients referrals you will recieve, increasing your profit
Get Quoted in National Newspapers and Blogs – this technique will not only highlight your expertise, it will also increase the amount of coaching clients who book you for a sessions
How to be Seen as an Expert – competition for clients is high, potential clients looking for a coach will only book and pay for experts; learn to be seen as an expert in the eyes of your clients
You will learn the techniques that I have developed and mastered over my career as an NLP Life Coach, Careers Advisor and Hypnotherapist, but more importantly I have made many costly mistakes that you don't have, follow my instructions and get the same results I achieve NOW without having to initially lose money, learning from the mistakes I made as a new coach.