Limited Time Promotional Sale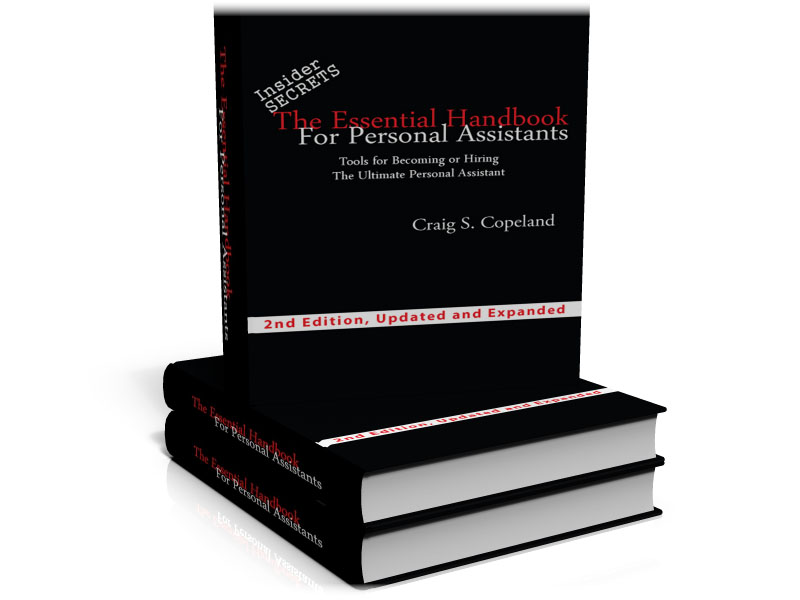 Perhaps you're already a WORKING Personal Assistant
and new challenges are being thrown at you
that you just don't know how to handle?
Maybe you're an EMPLOYER who isn't having any luck hiring the right Personal Assistant? Are you tired and frustrated training and retraining new candidates? Want someone trustworthy with great skills?
Have you always wondered what it's really like to work as a
Personal Assistant
but don't have a clue where to start?
Customer Feedback: 

(Other testamonials below)
"I got my books yesterday and yours by far is the best! I wish I hadn't wasted my money on the others."
Fort Worth, TX
"An important resource for Personal Assistants. Written from deep experience, Craig paints a spot-on depiction of the work in useful detail and thankfully, with great humor. The book delivers on its promise in spades."
- Bonnie Low-Kramen, Author of Be The Ultimate Assistant
"Finally, a true "insiders" guide. As a recruiter placing very high level Personal Assistants, I found this book to be extremely informative, useful and with a ton of good ideas and pointers. Wish I had written it myself."
- Lori Zuker Briller, The Grapevine Agency
| | |
| --- | --- |
| Sample Book Here | (You'll recieve the FULL book when you purchase the unlock key) |
| | |
This guide can show you the exact steps and specific techniques to help you become a successful, working Personal Assistant — even if you don't have a ton of experience…
These are tools you can use your very first day. Even if it's your first time!
This job isn't for everyone. But if you are someone who is creative, driven, loves a challenge, enjoys doing something new and different every day, has a caring nature, and is quick on your feet, then keep reading…
The Tools You Need!
In this guide (the same one that seasoned professionals use), you'll learn:
How to find the best jobs in this field
Where the best jobs really are
Tips to make your resume stand out
What's RIGHT to do during an interview and why so many get it WRONG
Secrets

for getting hired
What to do once you're hired
How and where to get the skills you need 

(others don't know about!)
What it takes to Becoming a kickass Personal Assistant
Knowing who the players are 

(Your boss wants you to know this)
How to run a household or Estate 

(like a pro)
Becoming Indispensable 

(to your boss and your career)
Learn how to keep your job 

(insider tips that gives the best job security)
When to ask for a raise and GET IT!
You'll learn my thoughts on never getting fired
The Essentials they don't tell you about (but your employer wishes you knew!)
Can anyone be a Personal Assistant? 

(with this key tool you can!)
We need to talk…
It's crucial to your career that you learn how and where to get the best training in this field.
There are only a few resources at your disposal. And they can really help you get to the next level. What they don't tell you about are the other skills you may need that they don't teach. This guide will give you the practical advice and inside knowledge to becoming a top notch Personal Assistant.
Tons of people apply for the same position. So how do you get there first?
Jockeying for the same position, how do you beat the competition to the finish line? You'll need an edge. Something that gives you a big advantage over others. In this guide you'll get tips and techniques on networking, how to use connections you may already possess. Tips on volunteering. And the most coveted methods for going through the back door to get to the top.
Do you know exactly how to avoid the mistakes that can keep you from finding that amazing job?
In a running race the difference between the winner and those who come in second or third comes down to microseconds. Not days, not hours, not minutes, just seconds. When you lose out on a job it's not that you were the worst, but more likely that someone was slightly better than you. So how do you get the edge over the competition? The tools inside the Essential Handbook for Personal Assistants will let the person hiring know instantly why they need to choose you over the other candidates.
How do you know what "must have" tools you'll need to do the job right?
Even the most seasoned Personal Assistant may not have all the tools he needs at his disposal to get the job done right. So where do you get them? How do you know what you'll need? Inside the guide are techniques and systems to enable you to find and use the proper resources to handle every task. You'll be given the steps to make sure every goal you set gets completed.
Excerpts from the guide:
"You know about them, you've heard of them, but rarely will you ever see them. At least not the exceptional ones. They run in the circles of the rich and famous in a "Where's Waldo"-like fashion. They speak on a daily basis to the A-list celebrities, heads of State, creators of multi-million dollar corporations, sought-after lawyers, doctors in demand, top athletes, powerful executives, and brilliant entrepreneurs, yet you rarely ever take notice of them, or hear of their amazing deeds. These little known yet integral parts of our society have been around for many years. They go by the often ambiguous title of Personal Assistant.

The dream is real. You too can do all of this and more. In fact thousands of people do every day. They're not all rich, may not have celebrity status, perhaps don't own a fancy house, and they might not even possess a large bank portfolio. So who are these people? They are the Personal Assistants who work for the rich, the famous, the tops in their fields, the crème de la crème.

The world of the Personal Assistant can be exciting and fast paced. It can take you through a hundred new experiences in a week and promises to always keep you challenged. The job can make you laugh and it can make you cry. Its addictive nature can thrill you, making you beg for more.

This is a book about the very essence of being a Personal Assistant. In it you will find the tools, the experiences, and the secrets about the lives of this elite group. You will learn all you need to perform this job with confidence and success."